When I first started hiking, I did it for the adventure (I still do of course)! To explore hidden places that are only available by foot. As I started to hike further and more often, I started to realise something. I was coming back from the trail as an absolute mess! My feet would be covered in blisters, I would be drenched in sweat which would then lead to chaffing. All because I didn't know what to wear hiking! I would Look back at some old hiking photos and think to myself "What were you thinking!"
Take a look at this photo. This was my first attempt at hiking the Berg Lake Trail. Can you spot anything wrong on the photo?
It may not be obvious in the photo, but beside the jeans I was wearing a lot of cotton. I was wearing hiking boots! But I wasn't wearing appropriate socks.
Disclosure: This post contains affiliate links, meaning that if you click on a link and make a purchase, I will receive a small commission at no extra cost to you. I am not sponsored to promote a product, and all product reviews are of my own opinion.
I created this guide to mainly focus on three season hiking as it is the most popular. I have thrown in some ideas for winter hiking, but if you are wanting to know more I am going to suggest you check out Ultralight Winter Travel
!
Tips on What to Wear Hiking
By making many mistakes, and by learning from others, I have learned a few things. Here are a few pieces of advice I have picked up over the years.
Wear wicking material. This is material that draws moisture away from the skin which allows you to keep cool on a hot summer day.
Cotton kills. Is a saying among hikers. Why? For the exact opposite reason as above. Cotton does not wick moisture very well, and it can absorb sweat and take forever to dry. This then cause a lot of other problems.
Layering. This is the best way for your own personal climate control. Each layer will trap air which in turn, acts as an insulator.
Wear Breathable material. Have you ever been in a sauna? That is what will happen to you if your clothes can't breath. The air will become saturated with moisture (from sweat) which means your body can't cool off properly. The end result? You are overheating and drenched in sweat.
Starting at the Top – What to wear on your Head
What you have on your head is going to depend on what time of year it is.
During the summer you are going to want to have sun protection. Your best bet is to get a wide brim hat. This is one of those things that I like to have fun with and add a bit of a personality to.
During the winter, or during colder days you are going to want something to protect your face from the elements. This can either be a toque (beanie) or a buff or a combination of both.
You will also want some eye protection. Even during winter, the sun can reflect into or eyes causing damage. This is especially true at higher elevations where there is a higher concentration of UV rays.
Upper body
This includes everything between the neck and waist.
Base Layer
The main function of the base layer is to draw moisture away from the skin.This helps you stay cool during warmer temperatures, as it allows sweat to take away body heat. It also helps you stay warm during the winter as it will keep your clothes drier and therefore warmer.
In the summer this might just be a T-shirt (not cotton of course). In colder months you would you can swap it out for a thicker, wool long sleeve shirt.
Mid layer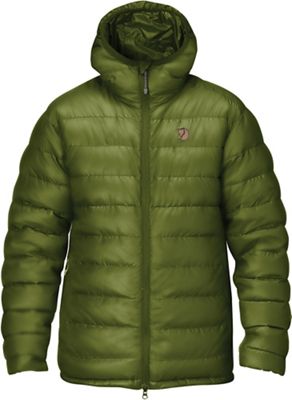 This purpose of this layer is to keep you warm. To do that it has to trap air inside. It also has to be breathable which means that moist air has to be able to escape. If the air gets to humid underneath your jacket, your body won't be able to regulate its temperature properly. In other words the sweat won't evaporate off your skin and cool you down. And yes, even in winter you can overheat.
There are a couple options available when it comes down to materials.
Down Jackets are the most efficient material when it comes down to weight vs. warmth. They are also the most expensive material and they need to be dry in order to work. This option is best for cold and dry conditions. If you are hiking in warmer conditions and just want something to wear at night, this is the best option.
Fleece can be an excellent alternative to down. It is versatile and it can come in a variety of thicknesses. So there should be a fleece option available for your needs. Fleece options are very breathable and also work  well when wet however, it is not very compressible and can take up a lot of space. Since they are very breathable these make good options if you plan on hiking in cold conditions.
Wool is another excellent natural insulator. It also keeps you warm when wet and is odor resistant. Its warmth to weight ration is not as good as the other options. It can also be expensive. Typically wool products are used as a base layer because of their moisture wicking properties.
So how do you decide what to wear hiking?
It really depends on your own preference and what conditions you are hiking in. For me, most of the time when I am hiking it gets too warm for a jacket anyway, so I just carry my down jacket with me to wear around camp.
Fleece is a lot cheaper than down and might be better to wear on the trail as it is more breathable.
I would also like to point out, that you are not limited to one article of clothing in this layer. If its cold enough to wear a mid layer while working up a sweat, then it is probably warm enough to wear two layers when you are at camp. In these situations I will bring a lightweight fleece layer as well as a down jacket. This way I have more flexibility in what I am wearing at camp.
Outer layer
This is the last layer you need to consider when deciding what to wear hiking. The goal of this layer is to provide protection from the elements. An ideal outer layer will be able to protect you from the wind, as well as from precipitation. On top of that it is going to have to be breathable as well. The outer layer can be separated into two categories.
Hard shell: These jackets are completely waterproof instead of being water resistant like their soft shell counterparts. A good hard shell will have a waterproof, breathable membrane layer like Gore-Tex. This layer will keep moisture from getting in, but at the same time allowing sweat to escape.
Soft Shell's are designed to be lighter and more flexible when compared to hard shell jackets. This comes at a cost of being water resistant instead of waterproof. These can be a great option on shorter trips where you know it may not rain as heavily and just want to pack something for "just in case".
Hands
If you are hiking in winter, then you are going to need to keep your hands warm as well. Look for gloves that are durable and waterproof.
Lower Body
Much like your upper body, Your bottom half will also need some layering options.
Base layers
Since a base layer is just the layer closest to your skin, your base layer will consist of underwear, and hiking pants. Hiking pants are usually lightweight, and are excellent at wicking moisture away. They also come with a lot of pockets, which can be convenient when out on the trail.
Mid layer
This layer is usually ignored unless you are winter hiking. In your typical three season hike you can get away with using thermal underwear to act as a baselayer as well as keeping you warmer.
Outer Layer
For your outer layer, you are going to look at rain pants during the summer, and ski pants during a winter hike. Again, you are going to want a material that is both waterproof and breathable like Gore-Tex.
What to Wear on Your Feet?
When you are hiking, your feet are your most valuable assets. It makes sense that we should look after them with the utmost care. Just one little blister can ruin a whole trip.
Hiking Boots Vs Trail Runners
This is a common debate among backpackers. Trail Runners are lightweight, they dry faster and are a lot less likely to cause blisters than hiking boots.
Hiking boots on the other hand, offer more support, especially around the ankles; are waterproof, but if the inside does get wet then it takes forever to dry; They are more durable, meaning that you will be able to wear them for longer without having to replace them.
Before you decide which ones to wear, I will leave you with some wisdom I got from a park ranger on the topic.
"If you had to carry someone down a mountain because they rolled their ankle, you wouldn't recommend trail runners either"
So while trail runners have a lot of advantages over hiking boots, you should really consider the terrain you will be trekking in before you decide to wear trail runners.
Socks
I personally always go with wool hiking socks. They are excellent at wicking moisture, which prevents blisters, as well resisting odors. You can change the thickness of the socks in case you need extra warmth as well.
Is This Really Necessary?
At first glance there does seem to be a lot to take in. If you are new to hiking you might be thinking about how much this might cost you. And yeah, some of this gear can be expensive. But I will let you in on a little secret. I did not start hiking wearing all of this.
It is ok to go hiking even if you don't have the latest down jacket, or if you don't own a pair of wool socks. It is way more important that you actually get out there and explore nature! The items listed in hear can be thought of as  a goal to achieve as you gain more experience. Maybe once or twice a year you can add to your collection.
What you will find, is once you start investing in some quality hiking clothes, the hikes will become much more enjoyable. Blisters become less frequent. You don't overheat as much so you can travel for longer.
With that being said, the longer you plan on going hiking, the more you should consider investing in all the gear first. It is easy to get away without buying a rain jacket if you only ever plan a hike in nice weather. But if you are going for more than a few days, chances are you will eventually encounter rain.
If you do want to plan a longer hiking trip, or want to know more than just what to wear hiking, check out my guide on how to plan a hiking trip.